Tweet


Daly City Hot Dogs
Phone:024-521-8125(17時以降となります)
Fukushima City, Minami-chuo, 2-29-3 Sake and Gyomu Supermarket, Fukushima Chuo Branch(parking lot)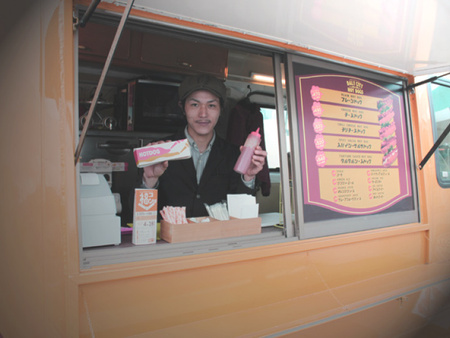 With the image of a San Francisco South Side port town "DALY CITY" hot dog wagon, we opened in April 2012. The owner always used to eat hot dogs in America, the birthplace of the hot dog, and has arranged the taste in his pursuit to please the Japanese palate. Starting with a bun with a crispy crust that is fluffy and moist inside, he carefully selected a sausage that makes an aggressive crunch when one bites into it. On this base, you can put any topping you choose from five different toppings.
In addition, we plan to have drinks and soft cream etc. from April 11 as a side menu. Please feel free to ask about our set menus.


The store details
| | |
| --- | --- |
| Name | Daly City Hot Dogs |
| Address | Fukushima City, Minami-chuo, 2-29-3 Sake and Gyomu Supermarket, Fukushima Chuo Branch(parking lot) |
| Hours | 11:00 to 19:00 |
| Closed | Tuesdays |
| Telephone | 024-521-8125 (after 5pm) |
| E-mail | info@absorb02.com |
| URL | http://goldennevada.blogspot.jp/ |
| Access | Fukushima Nishi Road( HWY 13) at Uzoedanchi Intersection Sake and Gyomu Supa Fuk Chuo Branch parking lot |
| Credit Card | No |

There is a case unlike a placed amount of money.